---
Alaskan Cruisetour Photo Gallery
Day 1 (May 17, 1999) - Home to Vancouver, and Onward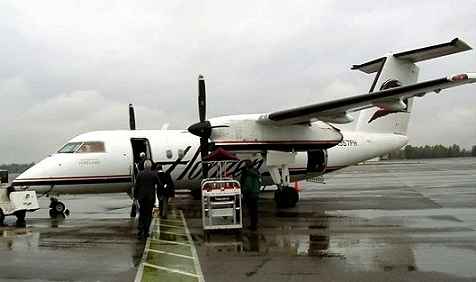 The plane from Seattle-Tacoma to Vancouver
---
The day dawned gray and very wet in Tacoma, even wetter than usual. The previous day had been one of the longest of my life, as I had finished the majority of my packing on Saturday, and I was anxious to get going. It was an uneventful trip to Seattle-Tacoma International, where I soon found myself boarding this smallish plane for the short flight to Vancouver, BC.

After arriving in Vancouver and clearing customs, I waited around for a short time for Mom's flight to arrive (she had a much longer flight from Nashville). Happily, there was no need to claim our luggage, as the Princess people automatically collect all baggage destined for the ship.

A Princess representative met us as we left the customs area, and directed us to the bus that would take us to the ship. After a quick cup of coffee, we went out and got on the huge line waiting for the busses. It was still raining, but at least we were out in a protected area. A good thing too - we had to wait close to 30 minutes before we able to board a bus.

The bus took us for a 45 minute ride through the heart of Vancouver. While we weren't treated to any sort of commentary about what we were seeing, we enjoyed the ride through beautiful neighborhoods and the downtown area. Unfortunately, being in a bus in fairly steady rain, I was unable to take any decent photographs.
---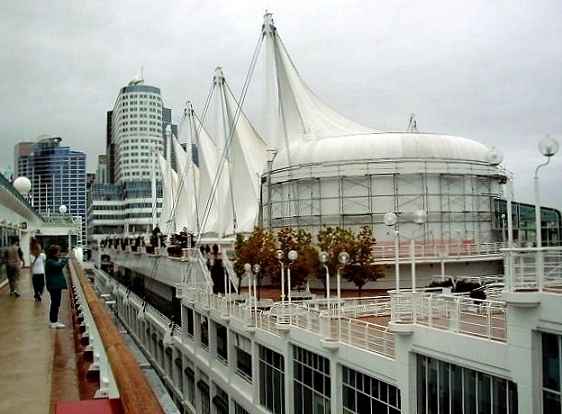 Canada Place as seen from the deck of the Sun Princess
---
Most cruise ships heading for Alaska depart from Vancouver primarily due to an old law that was meant to protect US shipping interests. The Passenger Services Act of 1886 prevents foreign-registered ships from moving passengers between US ports without making a stop in a non-US port. Since little US shipbuilding takes place these days, this act has backfired in recent decades, and now results in most cruise ships embarking or disembarking in Vancouver. This is changing - you can now (or soon will be able to) book Alaskan cruises that depart from either Seattle or San Francisco. But, for now at least, you're more likely to leave from Vancouver.

Upon arriving at Canada Place, the departure point for most if not all cruises leaving Vancouver, we were quickly directed through the terminal to the waiting Sun Princess. In less than 15 minutes, we found ourselves in our stateroom, and being introduced to our steward. Our luggage was due to arrive by about 3:30, so we had a couple of hours to get some lunch and look around the ship.
---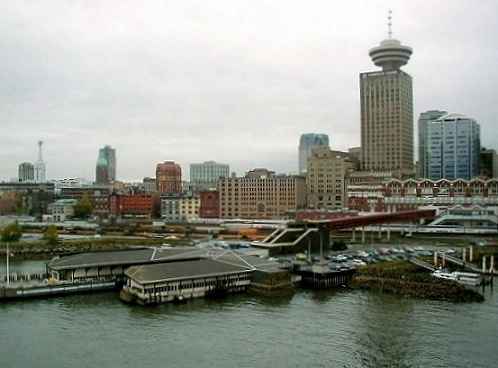 Downtown Vancouver
---
As it happens, my luggage arrived shortly after 3:30, but Mom's didn't arrive until nearly 5:30 (our scheduled departure time was 5:30). It's a huge ship, and it takes quite some time for the baggage handlers to get everything delivered. But, they're not perfect - we heard later on of people whose luggage was not delivered to the ship. Princess did help them by helping to purchase clothes and other required items onboard, but I'd hate to start out for a 7-day cruise without my baggage.

The ship was delayed until around 8:00 - a plane carrying 50 passengers bound for the ship had arrived at Seattle-Tacoma airport several hours late, and we had to wait for their bus to arrive at the dock. Princess probably wouldn't wait the ship for one or two late arriving passengers, but having to get 50 of them up to our first port of call in Ketchikan would have been a very nasty exercise. Fortunately, the ship's schedule appears to have lots of slack time to allow for such problems. By early the next morning, we were pretty much right where we were scheduled to be.

Departure was accompanied by the old "Love Boat" TV-show theme song being played over the ships PA system. Not just once, not twice, but three times. Shortly thereafter, we attended an introductory show in the Princess Theater. By the time the show let out, the ship was enveloped in fog, and little could be seen, so we called it a night.
---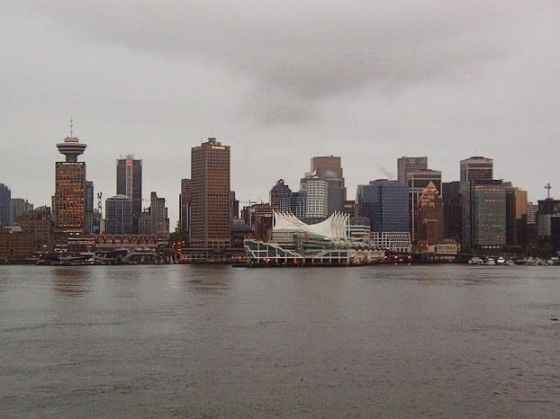 Departure from Vancouver. The white sail-shaped structure is Canada Place.
---
...of Vancouver.
---
Relevant Web Links

NOTE: These links will open a new window in most browsers. To return to this page, just close the new window.
---


Copyright © 1999, Pete Hanson