---
Alaskan Cruisetour Photo Gallery
Day 3 (May 19, 1999) - Totem Heritage Center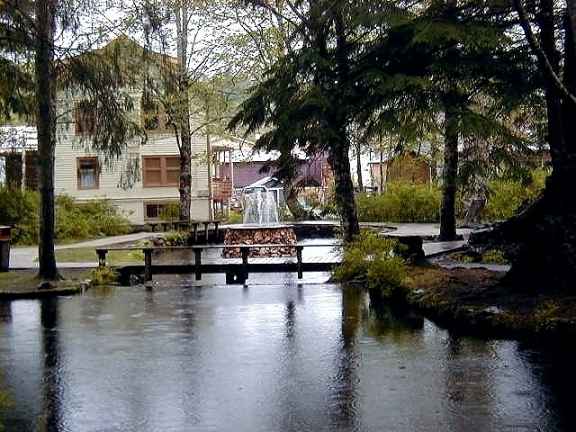 A Ketchikan City Park near Totem Heritage Center
---
We signed up for the Heritage Town and Country Tour, so immediately after breakfast (and a quick run to a local espresso stand), we boarded our tour bus and met our tour guide, Chris Bacon (say her name out loud a few times to realize why we remember her name). Chris isn't a year round resident of Ketchikan, but spends her summers in town running tours. She's a delightful individual full of local information and color with a great sense of humor. What could have ended up being a rather dull tour ended up being very enjoyable thanks in no small part to Chris. Watch out though - she's very fond of bad puns. Very bad.

It's from Chris that we first heard a joke that we heard from just about every tour guide we encountered. The population of single men in Alaska far outnumbers the population of single women, with estimates ranging from 5:1 to 20:1, depending on who you talk to. The standard advice for husband-seeking women, though, is that "The odds are good that the goods are odd." You don't have to spend much time in Alaska to realize that there is more than a little bit of truth in that statement.
---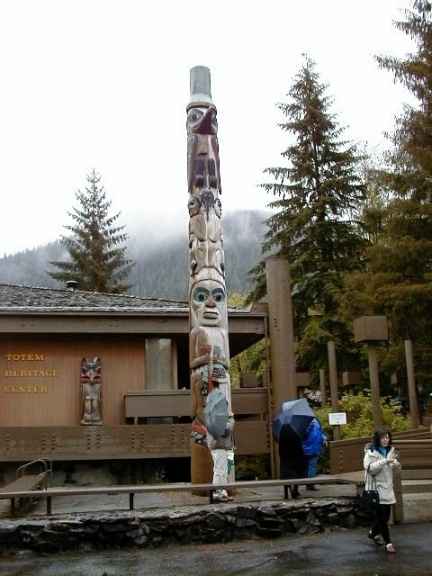 Totem Heritage Center. That's Chris Bacon in the blue coat, mostly hidden by an umbrella.
---
Our first stop, after a brief drive through the narrow winding streets of downtown Ketchikan, was the Totem Heritage Center. The Center is a small museum containing the largest collection of original totem poles in the US. However, this does not mean that the Center is large - it is more or less fully contained within two cramped display rooms, and contains an overpriced gift shop. Pictures here are difficult to take since flashes are not permitted, and the center itself is fairly dark.

After a brief stay at the Center, we headed out for the main stop on the tour, Totem Bight State Park.
---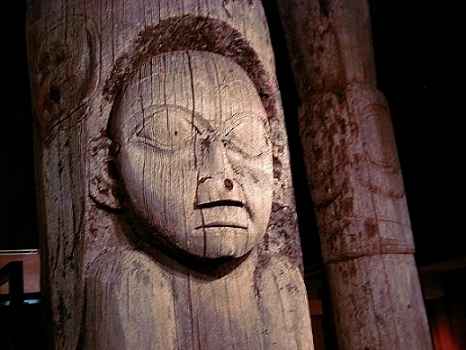 A partial view of one of the totems at the Heritage Center.
---


Copyright © 1999, Pete Hanson