---
Alaskan Cruisetour Photo Gallery
Day 3 (May 19, 1999) - Totem Bight State Park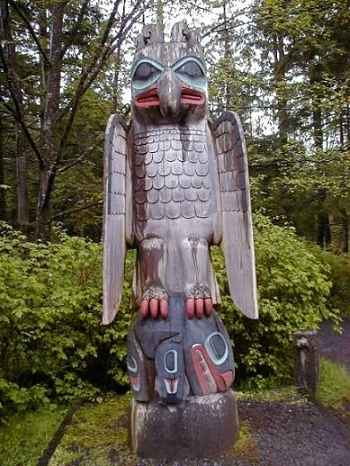 Thunderbird and Whale totem near the entrance to Totem Bight State Park. This Tlingit totem depicts the creation of thunder.
---
Totem Bight State Park is a small park several miles outside of Ketchikan in which a variety of Tlingit (usually pronounced kling-git) and Haida (hi-duh) Indian totems are displayed. All of the totems are recreations of original totems.
---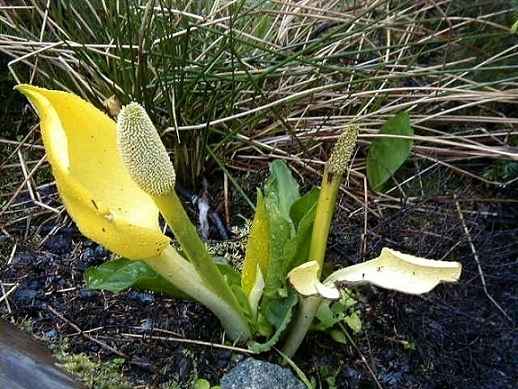 Skunk Cabbage
---
Totem Bight State Park is part of the Tongass National Forest. At 17 million acres, the Tongass is the largest national forest in US. It covers much of southeast Alaska, and includes the cities of Ketchikan and Juneau (as well as others). The forest is a temperate rain forest.

One of the more common plants found on the forest floor is the skunk cabbage, so-called for its distinctive odor (which fortunately I was unable to detect). It's also a favorite food of bears in the early spring - after a long winter, bears are severely constipated. The skunk cabbage works as an excellent laxative for the bears.
---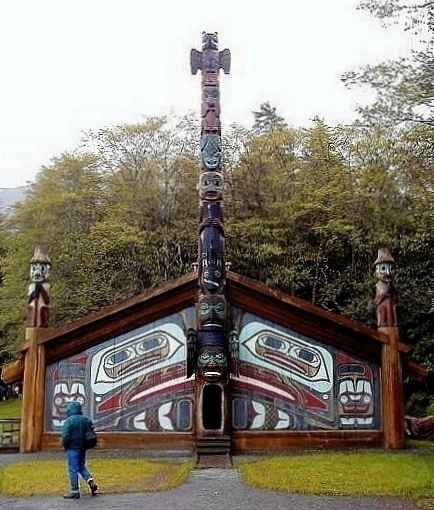 Haida Clan House
---
The main feature (other than totems) at Totem Bight is the reconstruction of a clan house used to house the native community during the winter months. The clan house consists of a single large room large enough to house 30-50 people with a central fireplace. The sole entry to a real clan house is a small door that requires the entrant to stoop over - this helped conserve heat, and also made it easy to kill any enemies who might try to enter. Another entrance of sorts was located directly over the fireplace, again making it near impossible for enemies to enter.
---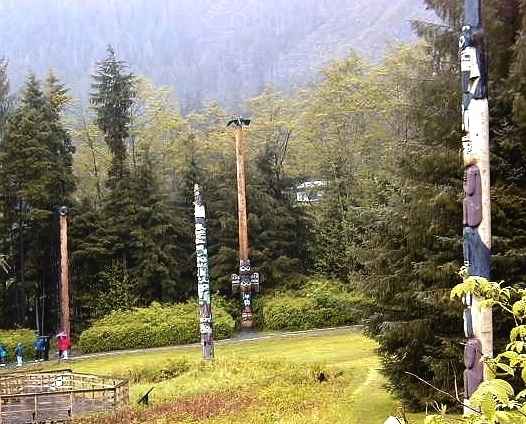 More totems at Totem Bight. I'm not certain, but the brown blob with a white top on the ground in the lower-right portion of this picture may be a bald eagle. I only noticed this when compiling this gallery.
---
...of Totem Bight State Park.
---
Relevant Web Links

NOTE: These links will open a new window in most browsers. To return to this page, just close the new window.
---


Copyright © 1999, Pete Hanson