---
Alaskan Cruisetour Photo Gallery
Day 4 (May 20, 1999) - Wildlife Search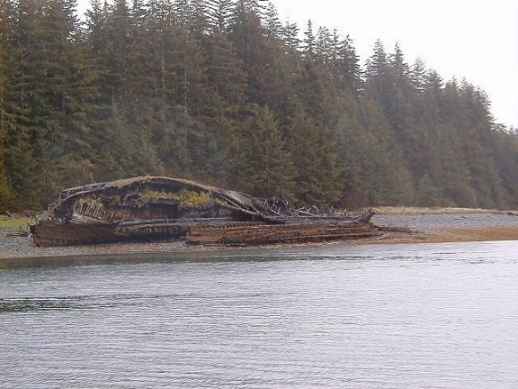 Shipwreck on Admiralty Island, south of Juneau
---
It was to be a pretty busy day. We had scheduled 3 shore excursions: a combination wildlife search boat trip around Douglas Island and Mendenhall Glacier visit, a helicopter expedition to Mendenhall Glacier, and an evening Salmon Bake. That's probably one too many shore excursions. I recommend no more than two excursions while in Juneau - use the rest of the time for shopping, exploring, and dining.

After breakfast, we proceeded directly from the ship to board a boat that would take us on a wildlife search cruise around Douglas Island, just west and across the Gastineau Channel from Juneau. The ugly weather kept visibility to a minimum, but we did succeed in locating some wildlife.

Our first stop was at the site of a turn-of-the-century shipwreck on Admiralty Island. I don't recall all the details, but the ship went down in a storm carrying a load of gold, but no one knew how much. Some years later, a group of people spent about $250,000 to salvage the ship. In return, though, they only recovered $50,000 worth of gold.

Aside from a variety of ducks and gulls seen at various points in the trip, our first major wildlife sighting came shortly after the shipwreck visit. There were hundreds of birds in the air and on the shore of Admiralty Island, so we approached closer to investigate. While we never did figure out what was so interesting, what we did find was a minimum of 75 mature bald eagles and an uncounted number of immature eagles maintaining the vigil along with all the other birds. Unfortunately, we weren't able to approach close enough for photos, but it was exciting to see so many of these large and beautiful birds in one place. The crew of our boat insisted that they had never seen so many eagles in one place.
---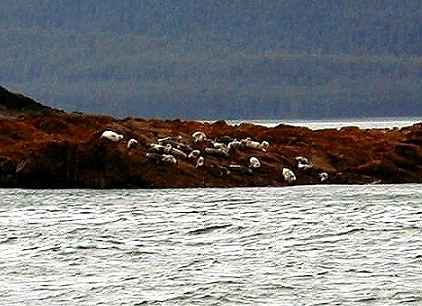 About two dozen seals hauled out on a small rocky island.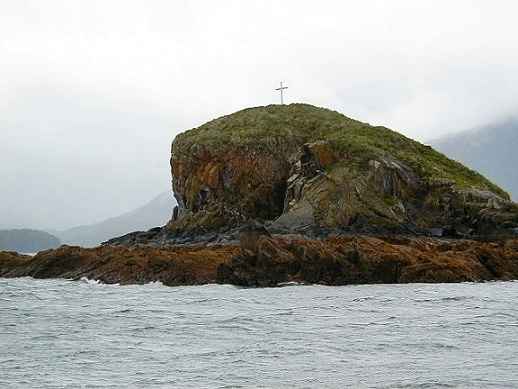 Small rocky island with cross
---
After departing the eagle party, we headed northwest through the channel between Admiralty and Douglas Islands. As we reached the southwest corner of Douglas Island, we encountered a beach party of about 2 dozen seals hauled out on the shores of a small, rocky island.

Shortly after leaving the seals, we moved on to another small, rocky island looking for more seals. This rock has a small cross on top, but we were told that no one knows why that cross is there.
---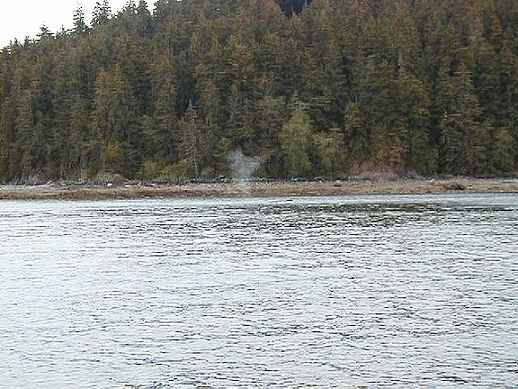 A humpback whale spouts near Douglas Island. If you look very carefully, you might be able to see the whale's dorsal fin just to the right of the spout.
---
Our final successful wildlife spotting occurred just prior to the end of the boat trip off the northern coast of Douglas Island: the one and only humpback whale we had the privilege of spotting. We observed several spoutings, usually accompanied by the dorsal fin just breaking the surface of the water. We were also able to see the tail break the surface immediately after the final spout.

It wasn't one of the more prolific wildlife searches I've been on, but it certainly was fun to see such a large collection of eagles in one place, and a privilege to spot a humpback whale, no matter how fleeting the experience.
---
Relevant Web Links

NOTE: These links will open a new window in most browsers. To return to this page, just close the new window.
---


Copyright © 1999, Pete Hanson