---
Alaskan Cruisetour Photo Gallery
Day 4 (May 20, 1999) - Mendenhall Glacier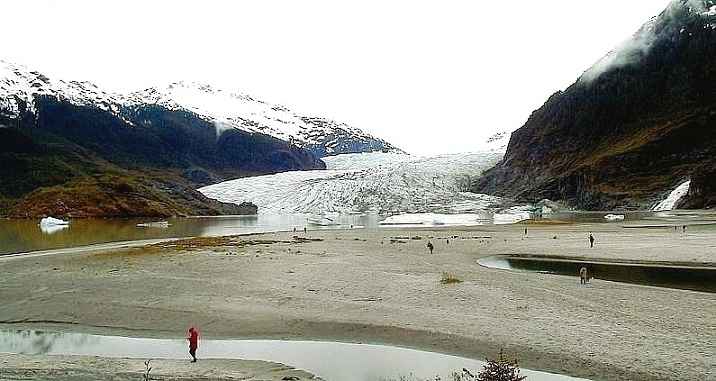 Mendenhall Glacier
---
After disembarking at Auke Bay, we were hustled on to a bus that took us first to the Chapel by the Lake, a small and pretty chapel with an outstanding view of Mendenhall Glacier. Unfortunately, pictures of the chapel and pictures from within the chapel didn't come out too well.

After spending a few minutes at the chapel, we continued on to Mendenhall Glacier. The glacier is approximately 12 miles long, and terminates in Mendenhall Lake within the Juneau city limits. The visible face of the glacier is about 100 feet high, with another 100 feet below the surface of the lake. The glacier is currently receding as are most glaciers in Alaska (this is not believed to be an effect of global warming, although there might be some small contribution made by global warming).

Note the icebergs in the lake in the above picture - they don't appear very large here, but were in fact garage and house-sized.
---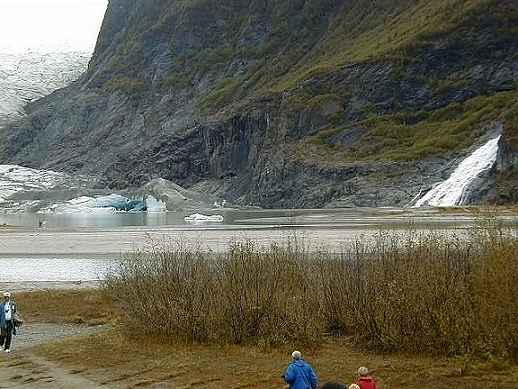 Closeup of right side of Mendenhall Glacier terminus.
---
In the closeup view of the right side of the glacier, you can see a portion of the glacier with very deep, dark blue coloration. With binoculars, the coloration here is something to behold, with many shades of blue clearly visible, ranging form a pale powder blue to sky blue to a deep, dark royal blue. That's a waterfall on the right side, not a glacier.
---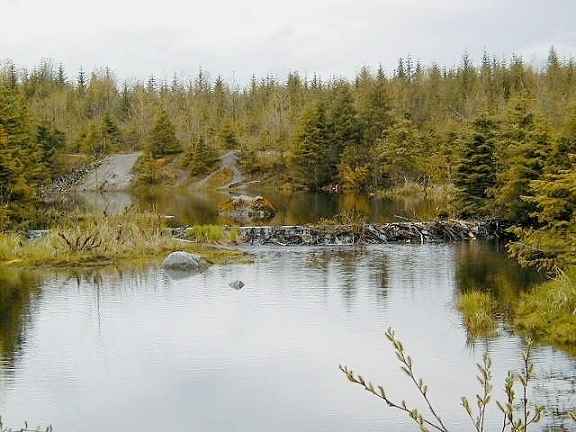 Beaver dam near the glacier.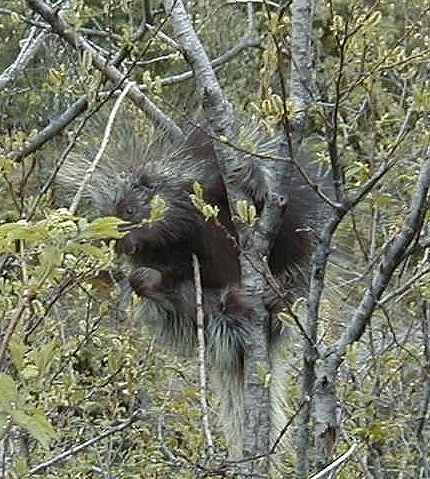 Porcupine in tree near visitor's center.
---
Keep an eye out for wildlife near the visitor's center. We found a beaver dam, as well as a porcupine.

The visitor's center is on a bluff overlooking the glacier, and is worth a short stop for the commanding view, as well as for the informative exhibits.
---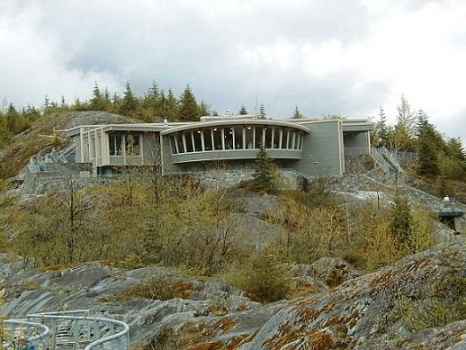 Visitor's Center.
---
Relevant Web Links

NOTE: These links will open a new window in most browsers. To return to this page, just close the new window.
---


Copyright © 1999, Pete Hanson