---
Alaskan Cruisetour Photo Gallery
Day 4 (May 20, 1999) - Mendenhall Glacier by Helicopter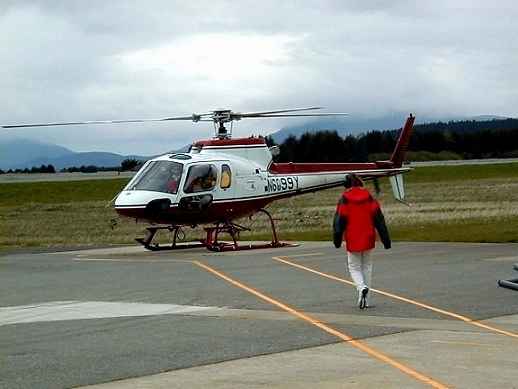 Our Helicopter
---
Upon return to the ship, we had just enough time for lunch and a brief rest before our next shore excursion, a helicopter ride to Mendenhall Glacier, including a short stop on the glacier's surface. Neither of us had ever flown in a chopper before, and Mom was nervous and ready to back out at the drop of a hat. Still, I managed to convince her to come along.

Knowing that Juneau frequently experiences fog, rain, and low-lying clouds, I had scheduled our flight for the afternoon, in the hope that any foul weather would dissipate after morning. This turned out to be the right thing to do - flights earlier in the morning had been cancelled, but the choppers were flying by early afternoon.

We had also originally scheduled a flight to another Juneau area glacier rather than Mendenhall. However, that flight had filled up early, so we elected to take the Mendenhall flight instead. This turned out just fine - it was probably more interesting to get a different perspective on a glacier we had seen earlier in the day.

We were to fly with Temsco Helicopters, one of the oldest helicopter flightseeing services in Alaska. They've been landing on Mendenhall Glacier since 1983. At their flight operations center, we were outfitted with glacier boots (these fit on over your regular shoes), shown a brief safety video, then shown to our helicopters a few minutes later. It was a smooth operation conducted by a friendly and cheerful staff.
---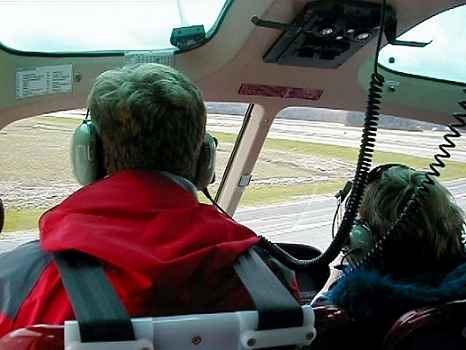 Liftoff. That's Mom to the pilot's right.
---
The Temsco fleet carries up to 6 passengers per aircraft, plus pilot. We got moderately lucky in being in the one aircraft carrying only 4 passengers. Mom was assigned the front seat next to the pilot, and had a bit of a tight fit, but me and one other passenger got to spread out in the back where there would normally be 4 passengers.

Liftoff was smooth if a bit noisy, and we were on our way.
---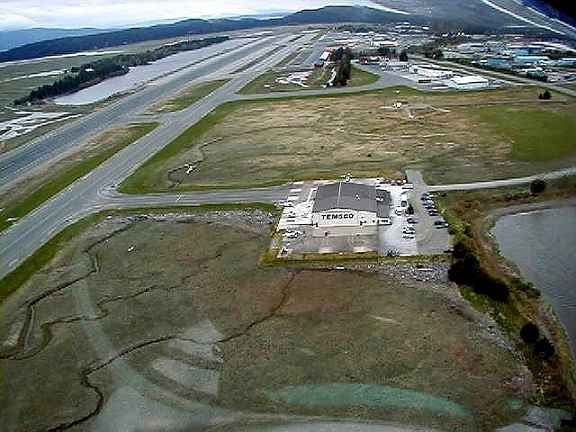 View of the airport seconds after departure. One of 6 choppers in our flight is visible in the air (upper left quadrant), one is just taking off (the far side of the Temsco building), and two more are visible on the ground just to the left of the Temsco building. The waterway to the left of the runway is for float planes.
---
After takeoff, we headed north for a short period, then turned east along the northern shore of Mendenhall Lake, headed for the glacier.
---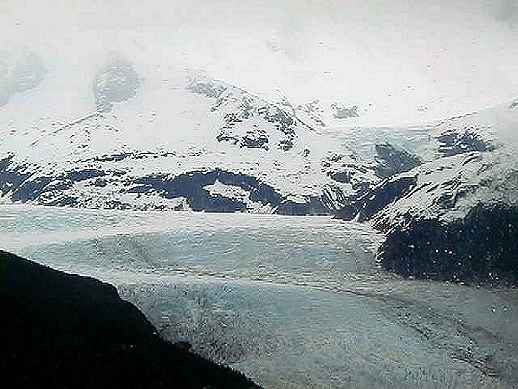 Approaching Mendenhall Glacier. It's raining a bit right now, as can be seen by the raindrops on the cockpit glass.
---
On approach to our landing site, we got to see many of the various different types of formations that can be seen on the surface of a glacier. The most interesting formation for me were these blue pools of ice, as seen just prior to landing. I believe these pools are called "moulins" or "ice streams".
---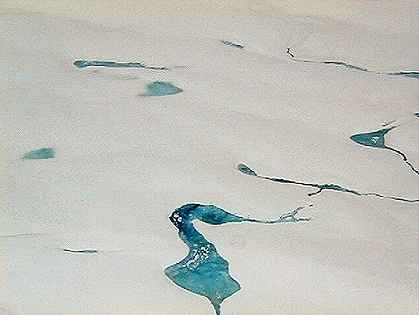 Blue ice pools on glacier surface.
---
Relevant Web Links

NOTE: These links will open a new window in most browsers. To return to this page, just close the new window.
---


Copyright © 1999, Pete Hanson