---
Alaskan Cruisetour Photo Gallery
Day 4 (May 20, 1999) - On Mendenhall Glacier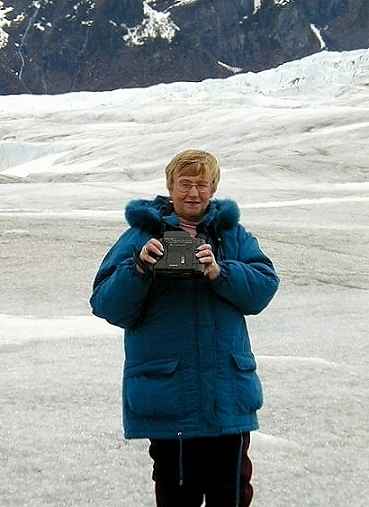 Mom on the Glacier
---
Landing on the glacier was as smooth as our takeoff and flight. Soon we were moving about the glacier, crunching softly in the so-called "popcorn" or "champagne ice" that covers the surface. Champagne ice is caused by the tremendous pressure of the glacier which forces bubbles of ice to be popped from the surface. It makes for very stable footing, especially with the help of our glacier boots.

The temperature was fairly mild this day - about 35 degrees (F) - and our landing site was in a protected area, so there was little wind. The cloudy day kept glare to a minimum, but even so sunglasses are recommended. Mom had to switch to her sunglasses after a few minutes.
---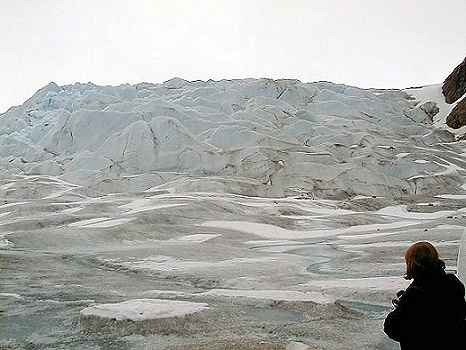 Suicide Icefall
---
The landing site is just downstream from Suicide Icefall, a frozen waterfall in the ice caused by a sharp drop in elevation. The above photo does a pretty fair job of showing the various colors of the glacier: the white of new fallen snow, the blue of the highly compressed ice, and the dirty black of the glacial surface, vaguely reminiscent of winter in New York City. This dirt is not caused by air pollution, though, but is a result of the glacier's grinding of rock into a fine powder.
---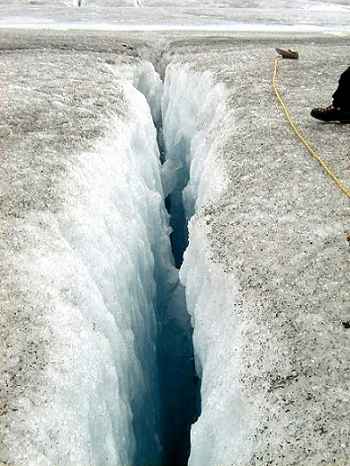 Crevasse. Note the deep blue of the interior, as well as the dirtiness of the surface. This crevasse was about 80 feet deep.
---
Crevasses were relatively few at our landing site, no doubt a result of safety concerns. But, they are not absent, and it can be dangerous moving about without a guide
---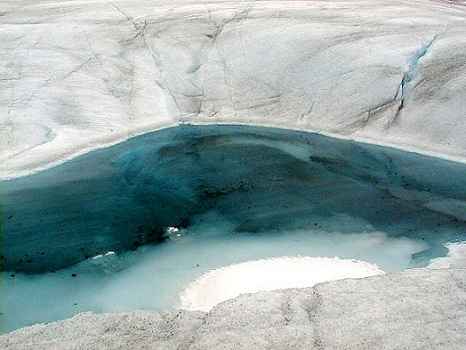 Moulin
---
Moulins are potholes in the glacier's surface, filled with water, and encrusted with ice. The various shades of blue in these is incredible. The smaller moulins can be walked on, though breakthrough is possible - I went in ankle deep on one. I wouldn't want to walk on one of the larger moulins, such as the one seen above.
---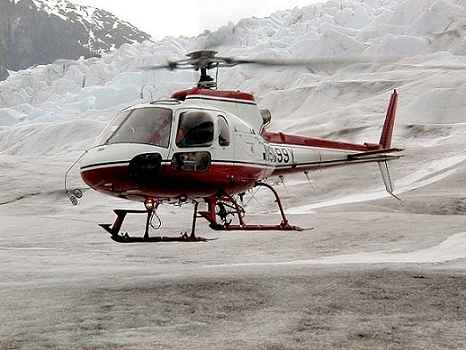 Our chopper returns with another load
---
...from the surface of Mendenhall Glacier.
---
Relevant Web Links

NOTE: These links will open a new window in most browsers. To return to this page, just close the new window.
---


Copyright © 1999, Pete Hanson