---
Alaskan Cruisetour Photo Gallery
Day 5 (May 21, 1999) - Port of Call: Skagway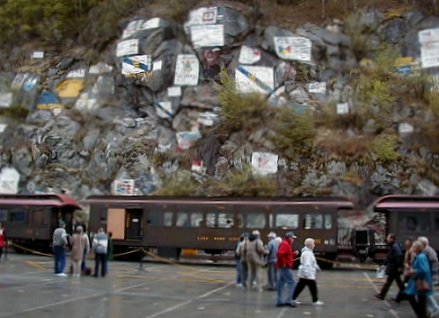 Kilroy Wall and White Pass and Yukon Route Railroad cars
---
Day 5 started out in a familiar manner - overcast, rain and wind, but quite a bit warmer than it had been. While it remained overcast most of the day, the rain and wind were mostly gone by the time we disembarked in Skagway.

Skagway owes its existence to the 1898 Klondike gold rush. It served, along with the nearby abandoned town of Dyea, as the jumping off point for hopeful gold seekers on the way to the Yukon via either White Pass or Chilkoot Pass. With a year round population of about 800, it comes as a bit of surprise that Skagway is one of only 3 towns in southeast Alaska with a road connection to Outside (the others are Haines near Skagway and the land-locked Hyder on the Canadian border in the far southeast). Skagway is much drier than the rest of southeast Alaska, with an average of only about 30 inches of precipitation a year. The primary business is tourism.

The Kilroy Wall (that's what I call it - I don't know if it has an official name) shown above is one of the first sights cruise ship visitors see in Skagway. This wall contains the painted flags of many cruise ships and other passenger ships that have visited Skagway. The ship's captains were often forced by the crew to scale this wall and paint the flag. The tradition began in the early 1900s, and was actively encouraged by the powers that be in Skagway. However, fear of lawsuits ended this practice in the early 1990s, though a few ships may still sneak up there late at night.
---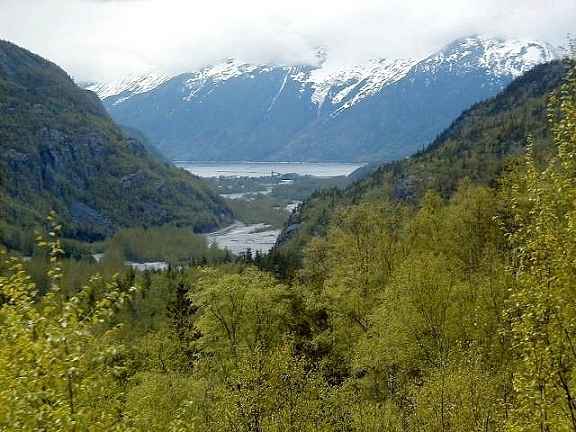 Skagway as seen from the White Pass and Yukon Route Railroad. Yes, there is a town down there by the body of water in the background.
---
Relevant Web Links

NOTE: These links will open a new window in most browsers. To return to this page, just close the new window.
---


Copyright © 1999, Pete Hanson