---
Alaskan Cruisetour Photo Gallery
Day 5 (May 21, 1999) - White Pass and Yukon Route Railroad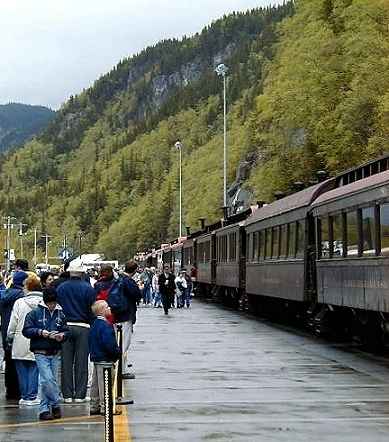 All aboard for the White Pass and Yukon Route Railroad
---
Our first excursion of the day was a train ride to White Pass via the White Pass and Yukon Route Railroad. The railroad was born of the gold rush. Construction began May 28, 1898 and ended in July 29, 1900. The railroad has 110 miles of track linking Skagway with Whitehorse in the Yukon Territory. The route covers some of the most rugged territory ever provided with rail, and rises to nearly 3,000 feet in less than 40 miles.

The excursions available via Princess consist of a 3-1/2 hour ride to White Pass and back, or a 6 hour ride that continues on to a gold mining camp in Canada. We opted for the shorter of the two tours.

The scenery was definitely spectacular, though it may have been even better had the weather been better. While it didn't rain while we on board, the overcast was extremely low.
---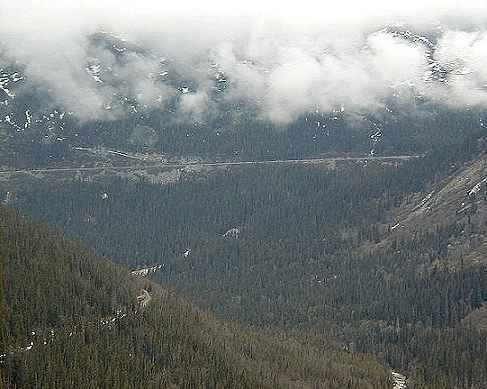 The highway from Skagway to the Alaska Canada Highway can be seen in the distance. To the lower left are tracks of the WP&YR.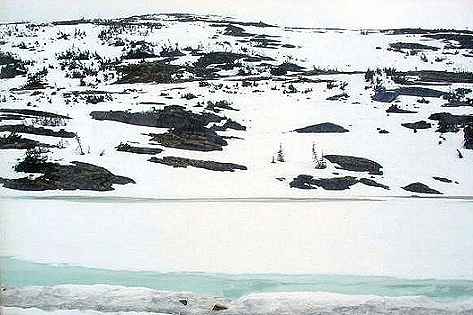 At White Pass turn-around point.
---
All in all, the railroad trip was enjoyable, and the scenery was spectacular. However, on reflection, I think I would have been happier taking the time to explore the town of Skagway. As it is, a late arrival back in Skagway made for a rushed lunch break before our next excursion.
---
---
...from the White Pass and Yukon Route Railroad.
---
Relevant Web Links

NOTE: These links will open a new window in most browsers. To return to this page, just close the new window.
---


Copyright © 1999, Pete Hanson