---
Alaskan Cruisetour Photo Gallery
Day 5 (May 21, 1999) - Port of Call: Haines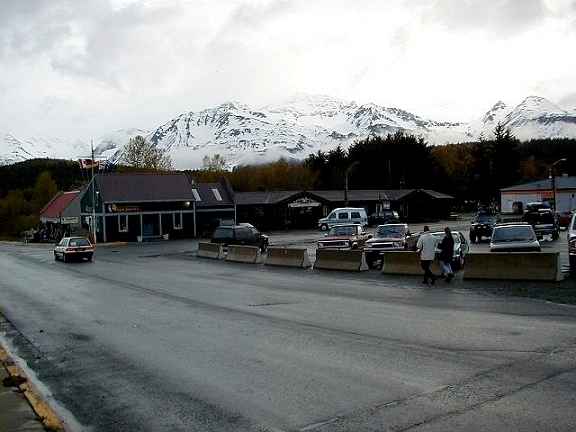 Downtown Haines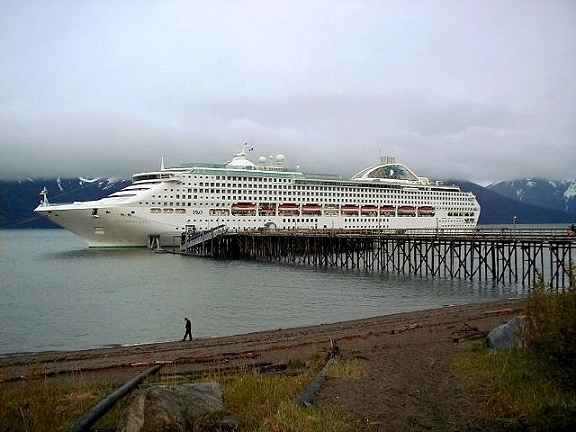 The Sun Princess docked at Haines
---
Haines is not a normal destination for cruise ships making the Inside Passage journey, as attested to by signs in the handful of tourist shops downtown - these signs make a plea to customers to spend their dollars in Haines due to the lack of large ships. Most visitors come in on excursions from Skagway, with only the occasional large ship making a stop here. Our own stop here was a bit of surprise - we only learned of it after we had already booked the cruise.

Haines' main claim to fame is the Chilkat Bald Eagle Preserve. From October to January, thousands of bald eagles congregate at the Council Grounds to feast on spawned-out salmon. The population of Haines is about 1,500, and is the 2nd fastest growing city in southeast Alaska. It gets about 50 inches of precipitation per year, with about 13 inches of that in the form of 11 feet of snow. The economy is based primarily on fishing, timber, and tourism. Haines is also one of the few communities in southeast Alaska with a road to the Outside.

Due to our arrival at dinner time and an already busy day in Skagway, we decided not to take any shore excursions in Haines. I did get off the ship after dinner for a short 3-mile hike in and around this small community where I found that tales of $5 (US) per gallon milk were not an exaggeration.
---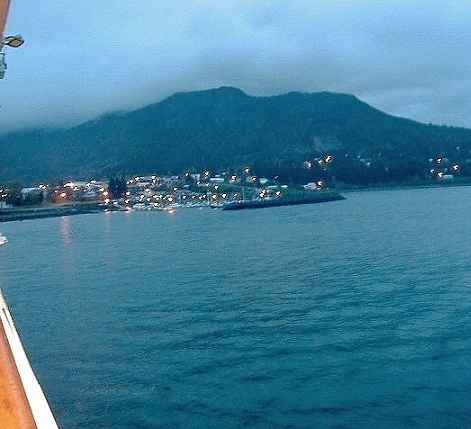 Goodbye to Haines. It's 10:15 pm and still fairly light out.
---
...of Haines.
---
Relevant Web Links

NOTE: These links will open a new window in most browsers. To return to this page, just close the new window.
---


Copyright © 1999, Pete Hanson