---
Alaskan Cruisetour Photo Gallery
Day 6 (May 22, 1999) - Glacier Bay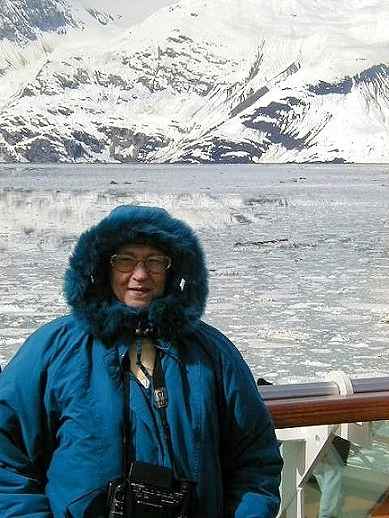 Mom goes native near Lamplugh Glacier
| | |
| --- | --- |
| | A bald eagle flies just above the water and small icebergs. |
---
As usual, day 6 started out with cloudy skies. For a change, though, the weather was dry and visibility was quite good, and the weather was pleasantly warm when the ship wasn't moving (it got bitterly cold though while under way).

I skipped breakfast this day, not wanting to miss a single minute of our time in Glacier Bay, one of our must see destinations when we booked our cruise. I spent almost the entire day on deck, going inside only for a light lunch (which I ate outside) and dinner, and a few times to get the circulation in my hands going again.

When Captain George Vancouver explored this area in 1794, the mouth to what later became known as Glacier Bay was plugged by a 4,000 foot-thick, 20-mile wide glacier that extended more than 100 miles. The waters in which Vancouver sailed were choked with ice, and became known as Icy Strait. The glaciers in Glacier Bay, though, are mostly receding, and by the time naturalist John Muir "discovered" Glacier Bay in 1879, the ice had retreated up to 48 miles up the bay. Today, cruise ships take tourists over 65 miles into the park. While most of the glaciers in the park are still retreating, the pace of the retreat is not as fast as it was. And, in a few places such as the Pacific Glacier, the glaciers are again advancing.
---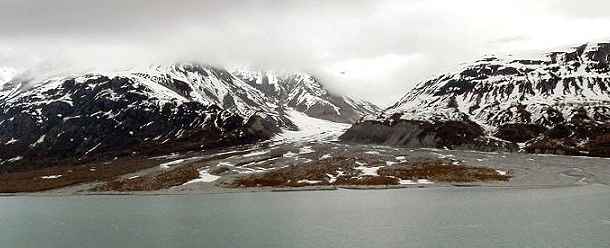 Glacier carved valley in Tarr Inlet showing the distinctive traces of a receded glacier.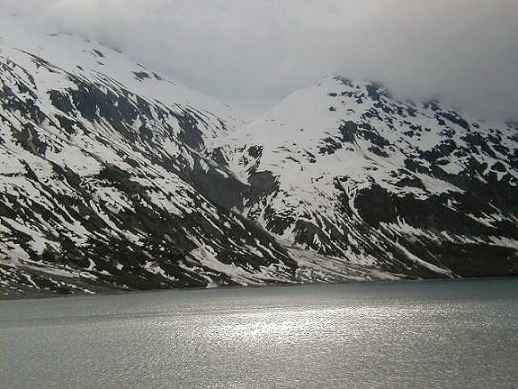 The sun breaks through briefly to shine off the calm waters of Glacier Bay.
---
Relevant Web Links

NOTE: These links will open a new window in most browsers. To return to this page, just close the new window.
---


Copyright © 1999, Pete Hanson