---
Alaskan Cruisetour Photo Gallery
Day 6 (May 22, 1999) - Margerie and Pacific Glaciers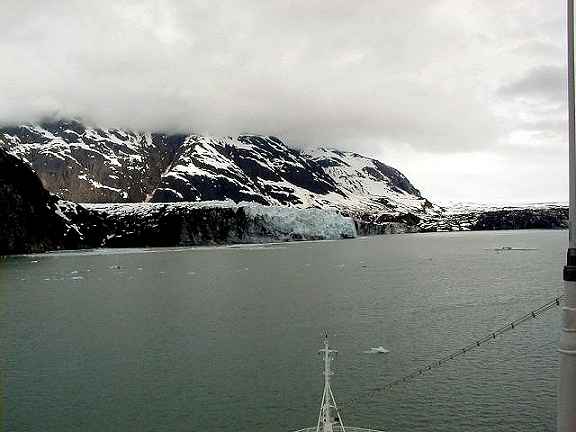 Approaching the Margerie (left) and Pacific (right) Glaciers at the northernmost reach of Glacier Bay.
---
Our first close approach to a glacier was made at the face of the Margerie and Pacific Glaciers, two of the few advancing glaciers in Glacier Bay. Pacific Glacier is about 3 miles wide, and maybe 150 feet high - the face of the glacier is almost completely black with the finely ground rock chewed up by the glacier. The Margerie glacier is about 1.5 miles wide, and maybe 200-250 feet high. Though black on the sides, the face contains a wide variety of shades of blue and white, with streaks of black at points.

As we approached, we could hear the thunder and cracking of calving action as the Margerie Glacier repeatedly belched both small and large icebergs into the bay. Sometimes, as many as 4 or 5 bergs were calved per minute, and the noise was nearly continuous at times.
---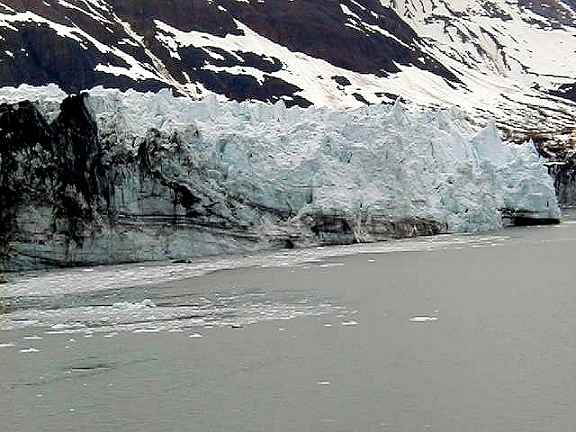 The face of the Margerie Glacier, showing different shades of blue and a fascinating pattern of black lines running horizontally.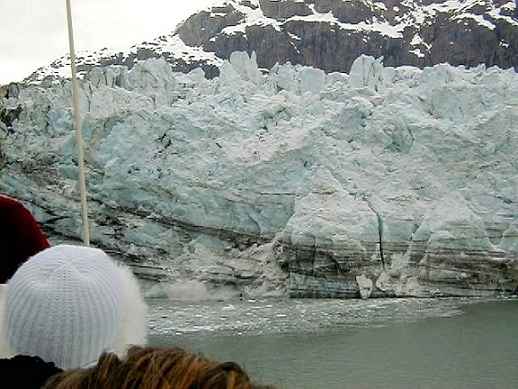 A closer view of the glacier's face with the splash resulting from a calving.
See an animation of the glacier calving (360K).
---
In running around to get some good photos, I somehow managed to lose my good viewing spot on the forward portion of the Lido Deck, so I ended up being unable to film most of the calving. Still, I managed to capture two minor calvings on film, which you'll find above. I I missed two of the largest calvings, both dumping garage-sized bergs into the bay.

If you had a good viewing spot, capturing a calving was easy - put the camera on burst mode, then listen for the cracking that precedes each calving. Aim your camera in that direction, and snap the shutter.

We spent nearly an hour parked near the glacier, first with the port side facing the Margerie Glacier, then with the starboard side. Many crew members told us later in the day that they had never seen the Margerie or any other glacier as active as it was this day. I get the feeling that they were as impressed as us tourists.
---
Relevant Web Links

NOTE: These links will open a new window in most browsers. To return to this page, just close the new window.
---


Copyright © 1999, Pete Hanson