---
Alaskan Cruisetour Photo Gallery
Day 8 (May 24, 1999) - Seward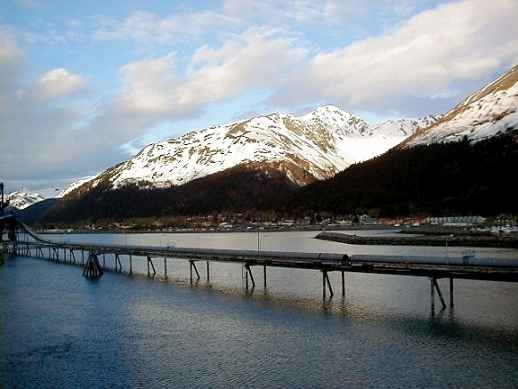 Downtown Seward from the deck of the Sun Princess.
---
Early the next morning found us in Seward under mostly cloudy skies, but with mild temperatures. Our cruise was over, and now it was time to move on to the land tour portion of our vacation. The cruise had been wonderful. Though we were frequently exhausted at the end of the day, we had always been comfortable and happy. Princess knows how to treat you right on a cruise.

The land tour portion, though, was going to prove to be a trying experience. We would spend much of the next 4 days sitting in various busses, trains, boats, and planes, being herded from location to location like cattle. At the few rest stops we had during the next few days, we generally had a choice: stand on line for the bathrooms, stand on line for refreshments, take a few fast photographs, or do some hurried shopping. There was rarely time to participate in more than one of those activities as we had 10 maybe 15 minutes to get back on our conveyance, amidst competition from several hundred to a thousand other tourists. We would have had a much more relaxing and interesting ground tour had we decided to rent a car and explore on our own.

It was to prove a very long day - after getting up at 5am, it would be nearly 2 am before I made it to bed. Mom did better - she was probably sleeping by 9 pm.
---
Looking out over Resurrection Bay from the Sun Princess
---
Our baggage had already been collected the previous evening, so all we had to do was dress, have breakfast, then wait around until it was time to disembark. Since we were going to Fairbanks that day, we would not have an opportunity to explore Seward. Passengers who would begin their land tour in Anchorage would have the morning free to explore Seward, but those of us going on to Fairbanks had to be on our way. If you have a choice in routing between going directly to Fairbanks or Anchorage on the land tour, I recommend going to Anchorage first. Seward is a beautiful little town, and is well worth exploring.

Seward is located at the end of Resurrection Bay on the Kenai Peninsula, about 125 miles from Anchorage. Surrounded on all sides by mountains and overlooking the blue waters of the bay, it has a population of about 3,000. The weather is frequently rainy, but on a reasonably nice day, the view is spectacular.

Seward serves as the gateway to Kenai Fjords National Park, and is also a busy port city for cargo and cruise ships moving in and out of the main body of Alaska. It is also home to the Alaska Sealife Center, which I've heard is a fascinating place to visit. Tourism activities are plentiful and varied.
---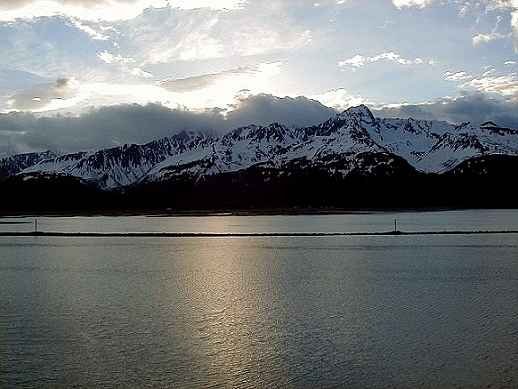 Early morning in Seward
---
...of Seward.
---
Relevant Web Links

NOTE: These links will open a new window in most browsers. To return to this page, just close the new window.
---


Copyright © 1999, Pete Hanson