---
Alaskan Cruisetour Photo Gallery
Day 8 (May 24, 1999) - Anchorage to Fairbanks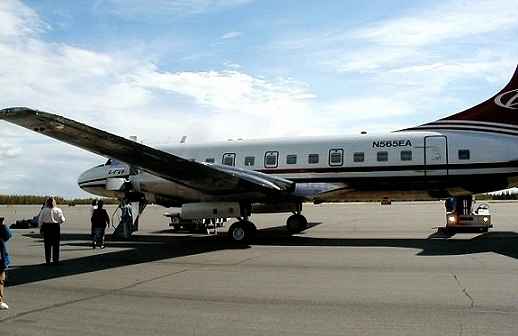 Our plane from Anchorage to Fairbanks (on ground in Fairbanks)
---
From the rehab center, we proceeded direct to the Anchorage airport where we promptly boarded our charter flight on an Era Aviation Convair 580 bound for Fairbanks. The 50-passenger prop-jet is amazingly comfortable for a smallish passenger craft, with plenty of headroom, legroom, and elbow room.

The flight was short (about an hour) and pleasant, and gave us the only view of Denali (Mt. McKinley) we were to receive, although the view was to be little more than a glimpse through the clouds. The approach to Fairbanks was a bit turbulent, but the landing was smooth.

Fairbanks is located deep in the Alaska Interior on the banks of the Chena and Tanana rivers. At latitude 64.50N, it is about 100 miles south of the Arctic Circle - this makes it the northernmost city in North America. The climate is extreme as one might expect. Temperatures of 30 and 40 degrees (F) below zero are not uncommon during the winter, and have been recorded as low as -66F. Summer goes to the other extreme, with temperatures in the 90s common (the record high is 96F). Precipitation is low - about 11 inches per year, with most as winter snow.

With a population of about 80,000 in the immediate area, Fairbanks is Alaska's second largest city. Mining, petroleum, the military, and tourism all make significant contributions to the city's economy.
---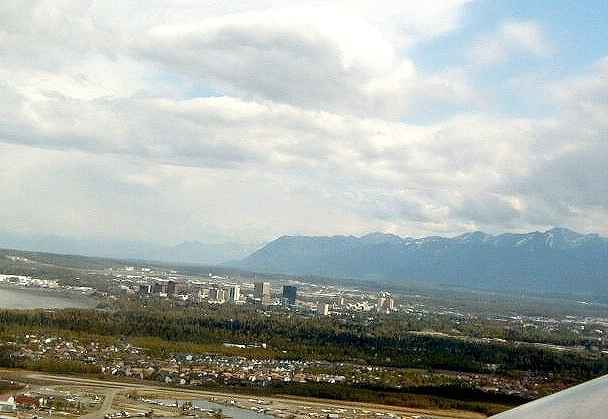 Downtown Anchorage during climbout.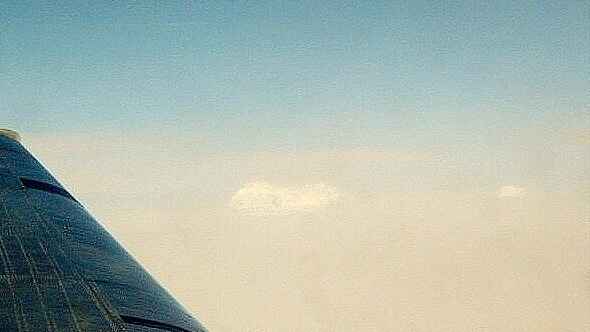 Our only glimpse of Mt. McKinley. McKinley has been intensified in this image to make it visible.
---
Relevant Web Links

NOTE: These links will open a new window in most browsers. To return to this page, just close the new window.
---


Copyright © 1999, Pete Hanson