---
Alaskan Cruisetour Photo Gallery
Day 8/9 (May 24/25, 1999) - Night Falls (Or Does It?)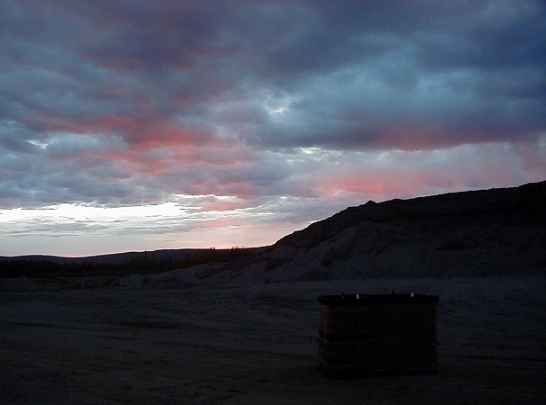 The sky at our landing site, 11:51pm. All around, the sky showed varying patterns and shades of blue and pink clouds. One of the balloon's ground crew likened it to the aurora borealis in beauty.
---
After landing, we had yet another obstacle to clear. We came down in a quarry, and the gates were locked. Unless we could find a way in and out, the ground crews wouldn't be able to load the balloons back into their respective trucks - they were too heavy to lift over the gates safely. Several of the ground crew members set out in various directions, looking for some way for the trucks to get in. Fortunately, they found a section of downed fence, and eventually the trucks were brought in.

We then celebrated our flight with champagne (surprisingly good champagne), and stood around telling stories and jokes, admiring the sky, battling mosquitoes, and generally having a good time.
---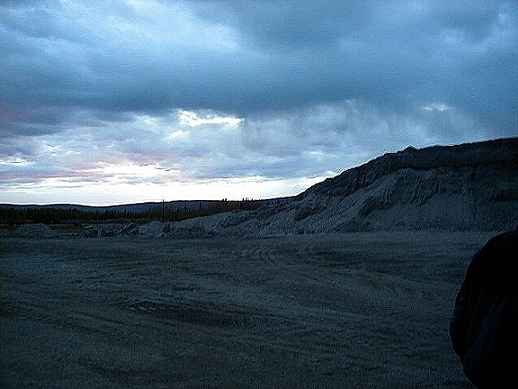 Midnight, and the sky is still light.
---
Soon, though, it was time to pack up and leave. Jack and his crew drove me back to the Bear Lodge, entertaining me with stories of life in Fairbanks and educating me on the problems of getting listed by Princess as a viable excursion (Princess won't do it citing safety and also financials of the balloon companies).

Once back at the hotel, it was 1am. I had some postcards to get out, so rather than disturbing Mom, I headed outside where I proceeded to write the postcards using the available light, which was still plentiful. All around me, instead of the sounds of the city, I could hear the various calls of wildlife.

As far as I can tell, it never did get dark that night. Sunrise was at something like 3:15am, and since it was still light out when I went to bed at 1:46am, it seems doubtful that it ever did get dark. I went to sleep exhausted but euphoric, and despite having only 3 hours sleep that night, arose more well-rested than I had any time during our trip.
---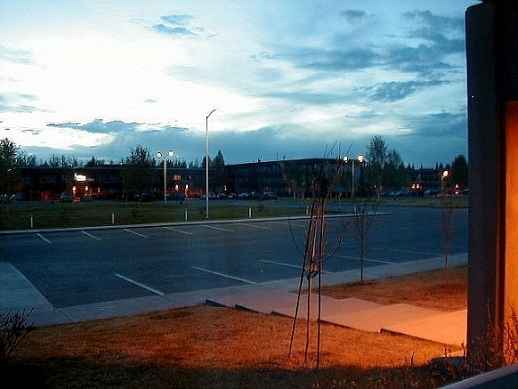 The view outside my hotel window, 1:46am.
---
Relevant Web Links

NOTE: These links will open a new window in most browsers. To return to this page, just close the new window.
---


Copyright © 1999, Pete Hanson