---
Alaskan Cruisetour Photo Gallery
Day 10 (May 26, 1999) - Not So Wild Things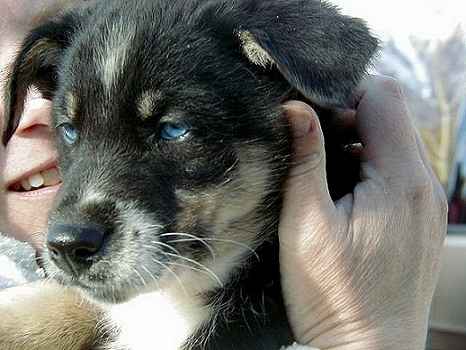 Mom snuggles with one of Jeff King's puppies.
---
The next morning, we had time for one excursions in the Denali area. As you might expect from our email addresses, Mom and I are dog people. I had also spent a lot of time reading about the Iditarod before coming on this trip. So, when we found that 3-time Iditarod winner (1993, 1996, 1998) Jeff King had a kennel and home in the area, we signed up for the excursion that visited his place.

The excursion was one of the most interesting we took on the entire trip. Jeff himself conducted the bulk of the tour, talking nearly non-stop for 2-1/2 hours about the life-style of a musher (it really is a life-style, even for novice mushers) and of his experiences in the Iditarod and other races.

Most people when they think of sled dogs think of Malamutes and Siberian Huskies. This is partly because mushers commonly call their dogs "huskies". In fact, most sled dogs are neither of these breeds (though most probably have some common ancestry with the breeds if the frequency of blue eyes is any indication). Just about any type of dog with the required size and stamina can be a sled dog. Even poodles have been used in the Iditarod, though as I recall, those poodles did not finish the race. When it comes down to it, most sled dogs are mutts. Valuable and prized mutts, but mutts nonetheless.
---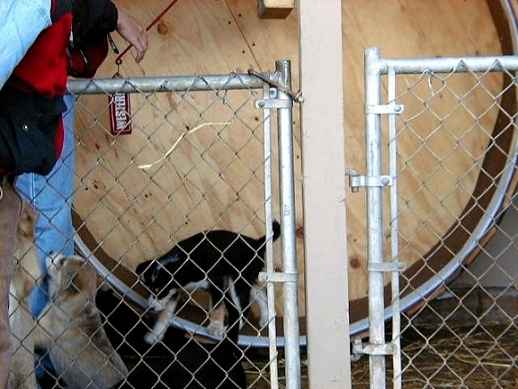 A hamster-wheel like contraption used to train puppies.
---
There are some that believe that mushing is in some way cruel to the dogs, and there have been efforts by animal rights groups to shut down mushing as a sport. Naturally, mushers will disagree with this position. From my own readings about mushing, I've come to agree with the mushers - most sled dogs receive the very best of care, both in training and on the trail, and live long and happy lives (15-17 years is not uncommon). What's more, the dogs clearly enjoy what they do - even the puppies. You can see that in the way they react to the little cues they get that something is about to happen. Even the appearance of Jeff in the kennel area is enough to get every one of them barking, howling, and jumping at their tethers. If they hear the hydraulics getting ready to release the brakes on the training wheels, their excitement doubles.

The dogs also clearly love Jeff in a way that leaves no doubt that they are well-treated, and Jeff's attitude toward his dogs is clearly of love and respect.

If I had any complaints about this excursion, it was that it was too short. Jeff, I'm sure, probably could have gone on for hours talking about this passion of his, and most of the people in our group probably could have listened for hours. Even after 2-1/2 hours, I wasn't in the least bit restless. Even a little more time for a question and answer period would have been useful - as it is, we only had time to ask Jeff questions informally after the main talk and before we left.

What's more, now Mom wants to go to Anchorage in March for the start of the Iditarod, and possibly on to Nome for the finish.
---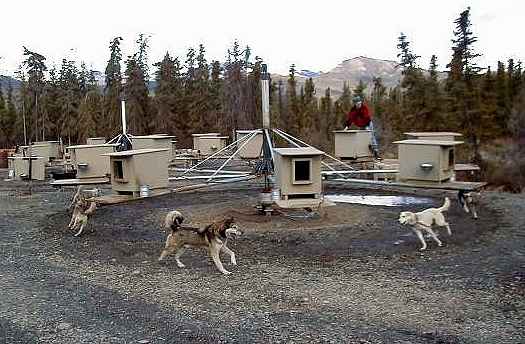 This contraption is used for training sled dogs. One of Jeff's lead dogs is in the foreground, running in the opposite direction from the dogs tethered to the training wheel. This is common behavior for this dog - Jeff figures she is trying to maintain contact with each member of the team.
---
...from Jeff King's Husky Homestead.
---
Relevant Web Links

NOTE: These links will open a new window in most browsers. To return to this page, just close the new window.
---


Copyright © 1999, Pete Hanson