---
Alaskan Cruisetour Photo Gallery
Day 10 (May 26, 1999) - All Aboard: Denali to Anchorage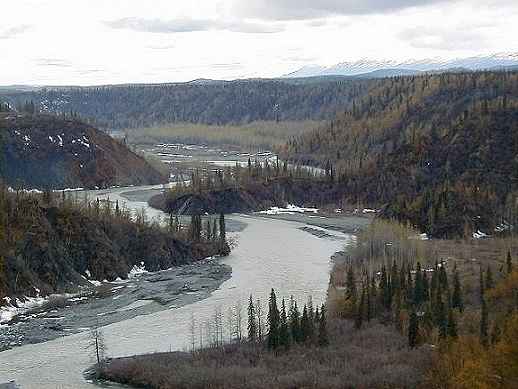 Crossing Hurricane Gulch
---
After returning, it was time to board the Midnight Sun Express again for the 8-hour trip to Anchorage, our final stop before returning home. It was to be a fairly long and uneventful trip - probably a good thing since a lot of people, including us, were showing the effects of the past week and a half. I know I was tired - I took only a handful of pictures along the way.

We had both lunch and dinner on board. As with breakfast the previous day, the food was good but expensive. We lucked out with dinner though - because we had been unable to visit one of the scheduled sights in Fairbanks, dinner was free for many folks, including us. We ordered the most expensive things on the menu. Don't forget to try the mixed berry pie if you get a chance - it is delicious.

One of the high points of the trip was discovering that our guide for the day was the reigning Miss Alaska. She was happy to share hugs as we disembarked, and I took the opportunity to get one.

We arrived in Anchorage around 8:30pm, then were bussed to our hotel, the Captain Cook in downtown Anchorage. This is one of the nicest hotels in Anchorage, and the lobby and shop areas are most elegant. The rooms are a bit on the small side, but are otherwise pleasant and comfortable.
---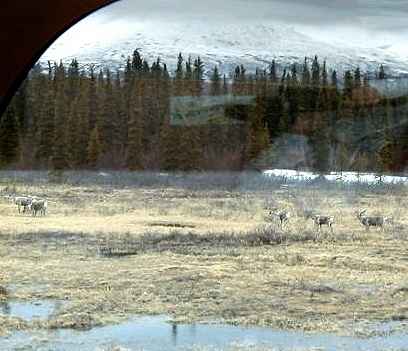 Caribou seen alongside tracks, with a clear demonstration of the difficulties of getting a decent picture from your seat on the MSE.
---
...of the Midnight Sun Express (Day 2).
---
Relevant Web Links

NOTE: These links will open a new window in most browsers. To return to this page, just close the new window.
---


Copyright © 1999, Pete Hanson