---
Alaskan Cruisetour Photo Gallery
The Ship

Sun Princess docked at Ketchikan
---
The Sun Princess is one of Princess's new Grand Class superliners. It carries up to 2,250 passengers (1,950 normal load) and a crew of 830, is 856 feet in length, 106 feet in width, and has a gross weight of 77,000 tons. There are 10 public decks, and at least 4 crew-only decks. She was christened in 1995 by Lady Sterling of Plaistow. Her sister ships, the Sea Princess, Dawn Princess, and Ocean Princess are more or less identical.

The Sun Princess is no longer Princess's largest ship - the new Grand Princess is even larger. However, the Sun was plenty large enough for me. I would have, in fact, preferred one of the smaller ships.
---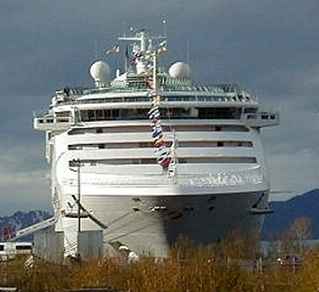 Our final view of the Sun Princess (Seward)
---
Getting around the Sun Princess is a bit of a pain. There are 3 banks of elevators, each of which go to slightly different sets of decks. This can make getting around a bit confusing. The forward elevator bank in particular was nasty - pressing the up or down button doesn't call for the elevator in all shafts, but only one or two of the elevators depending on what button you pressed. During peak periods, it can be very difficult to get an elevator going in the right direction, so people often get on the down elevators to go up. This only exacerbates the problem.

Of course, you can always use the stairs - I frequently did when I wasn't with Mom, but Mom's knees don't hold up very well on stairs. So, we spent a lot of time waiting for elevators.
---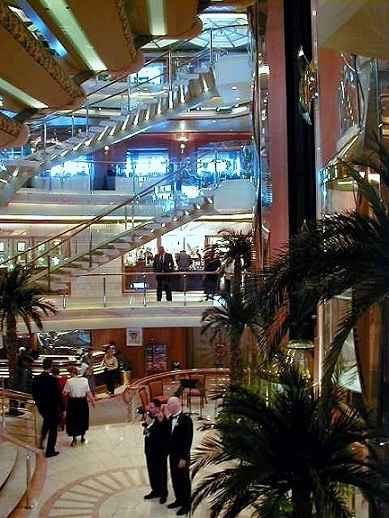 The Atrium
---
The Atrium is located slightly forward of midships, and covers decks 5-8 (the Plaza, Emerald, Promenade, and Dolphin decks. Here you will find the pursers desk, both of the main dining rooms, the pizza joint, duty-free shops, and a variety of lounge areas. The casino, disco, and gangways are also accessible just off the atrium. Frequently, a pianist or string quartet was present for entertainment and atmosphere. It is very much reminiscent of the main lobby of a 5-star hotel.
---
Relevant Web Links

NOTE: These links will open a new window in most browsers. To return to this page, just close the new window.
---


Copyright © 1999, Pete Hanson