---
Alaskan Cruisetour Photo Gallery
Staterooms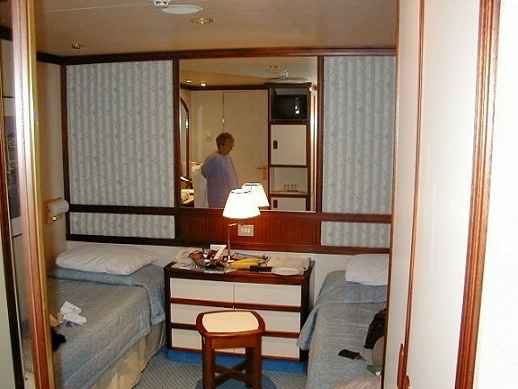 Our Stateroom (looking in from doorway). That's Mom in the mirror.
---
On boarding the ship, you will first be shown to your stateroom. As you're probably aware, most staterooms are rather small. In fact, if you've never cruised before, it's probably smaller than you imagine. Our stateroom, an inside room on the Baja deck (deck 10), was about the size of a small child's bedroom (about 130-140 square feet). In this tiny space you will find two small bunks, a desk and chair, a chest of drawers, closet, TV, safe, refrigerator, and of course the head (bathroom for you landlubbers). That doesn't leave much room for two people to walk around.

The outside staterooms appeared to be slightly larger, but not by much. Having a balcony may have given us a bit more room to move around, but I felt the amount of time we would have spent on the balcony wasn't worth the additional costs, especially since you only get a 180-degree view. As it is, we spent very little time in the stateroom except when sleeping.
---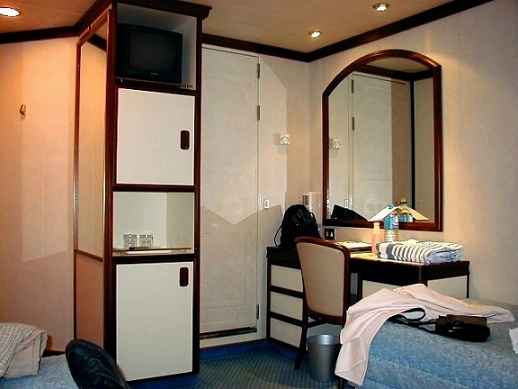 Our Stateroom (looking out from my bunk)
---
Princess promises that all staterooms are equipped with 110-volt, 60-cycle AC current with standard U.S. plug fittings, a promise they likely keep. Our stateroom, however, had only one available outlet, visible above just below the left side of the mirror. It was a fairly constant balancing act keeping things plugged in that needed charging (camera batteries, laptop, camcorder battery). My battery charger in particular was a tough fit in the limited space provided. Bringing an extension cord along would have been worthwhile.

Every stateroom is assigned a steward who comes in several times a day to clean, make the beds, refresh the fruit basket, turn down the beds at night, etc. You can make his or her job a bit easier by keeping clutter off the beds and other surfaces - if you don't, it can be quite a challenge figuring out where it is after the steward moves things around. Our Steward, Ermelindo Martin (or maybe Martin Ermelindo - he wasn't clear on that) seemed to live under our bunks. Every time we left the cabin, no matter how little time we were gone, things had been straightened up, used towels and washcloths replaced, etc. by the time we got back. Had we asked, he probably would have told us bedtime stories at night.
---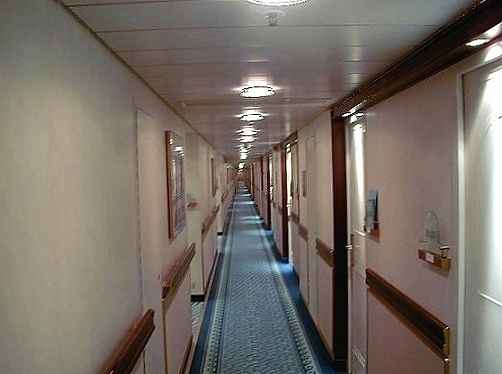 Looking forward up the L-O-N-G hallway outside our stateroom
---
Location of your stateroom is an important consideration - you can choose an inside or outside stateroom (most, but not all, outside staterooms have balconies), as well as whether you want to be forward, aft, or midships, or on the port or starboard sides. Staterooms are available on decks 5, 6, and 8-12. Pricing for the various locations can differ considerably - up to $2,550 above the base price.

Generally, midships inside staterooms near the bottom of the ship experience the least motion. You may have heard that Alaska cruises aren't usually subject to a great deal of motion, and in general, that's true. However, there are several areas (the Queen Charlotte Sound and the Gulf of Alaska in particular) where ship motion can be distinctly noticeable, especially when attempting to sleep at night or riding the elevators. More than one person experienced seasickness on our cruise despite generally calm seas.

Our stateroom was an inside stateroom located on the Baja deck (deck 10), very close to midships, so we had no problem with seasickness. Even so, what motion there was seemed to make my indigestion problems more severe than usual (or maybe it was just the rich food).

Another consideration for some people is distance to the elevators. There are no midships elevators on the decks with staterooms, so the walk can be lengthy for someone with limited mobility. Above, you can see the view looking forward outside our stateroom - this hallway is tremendously long, and is nearly as long looking aft. The forward elevator banks are roughly halfway up the hallway as seen above, and an equal distance aft.

Before the ship leaves port, an emergency drill is held in which all passengers must participate. This involves going to your stateroom (without using the elevators), retrieving your life jackets, then using the stairs to go to the muster stations on deck 7. Again, if you have mobility problems, you should try to get a stateroom that will involve a minimum use of stairs during this drill.

The pre-departure drill is not the only emergency briefing you will receive. Every time you board a boat, train, plane, helicopter, bus, automobile, tramway, golf cart, bicycle, or skateboard, you will first have to sit through a short safety briefing pointing out the various emergency exits, fire extinguishers, first-aid kits, and other related information. These briefings are even more extensive than those federally mandated briefings you get from the airlines - they're sort of amusing at first, but become tiring quickly.
---
Relevant Web Links

NOTE: These links will open a new window in most browsers. To return to this page, just close the new window.
---


Copyright © 1999, Pete Hanson