---
Alaskan Cruisetour Photo Gallery
Dining Onboard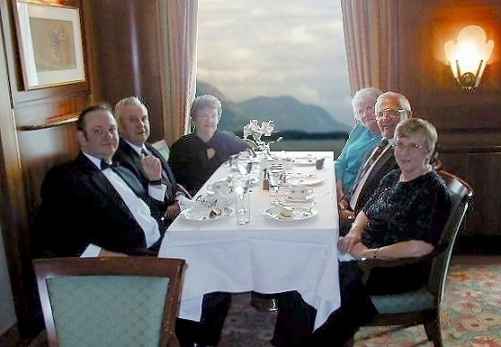 Our Evening Dining Room Table and Companions. This was taken on the first formal night. (The outside view was inserted by me to compensate for nasty glare in the original photo.)
---
The Sun Princess has a variety of dining facilities, none of which charge for your meals and basic beverages (water, coffee, tee, milk, and juice). Soft drinks and bar drinks, however, do cost extra.

The two main dining rooms are open for breakfast, lunch, high tea, and dinner, with open seating for all but dinner. There are two seatings for dinner (6pm and 8pm on most nights), with your seating and table assigned before you board the ship (you must choose your seating when you sign up for your cruise). The food is excellent (but not what we would term great) and plentiful, and the service outstanding - especially so for the evening meals because you have the same waiters every night. They will quickly learn your little idiosyncrasies, and make every effort to keep you happy.

You don't even have to stick to the menu - they will go out of their way to prepare any meal they can, and will allow you to order, say, an extra large appetizer as your main meal. Can't decide what you want? Order more than one! Just ask if you want seconds or thirds - even if the entree is lobster.

Every night has a different theme - there's French night, American night, Italian night, lobster night, seafood night, and several others. The uniforms of the staff will change each night to match the theme of the day.

Don't expect to dine with the Captain or anyone else of importance on the ship though. If there is a Captain's table seating, this fact was kept well concealed from the common folk on board.

Don't forget to try the cold fruit soups offered at several meals. These are delicious, and are far superior in quality to the hot soups I tried. The only hot soup I enjoyed was the french onion soup. Also give the low-cal/low-fat desserts a try - I usually dislike such desserts, but found those available on board outstanding.

Every evening is designated as either formal, semi-formal, or "casually elegant". On our cruise, there were 2 formal, one semi-formal, and 4 casual evenings. While most folks do dress accordingly, there are always a few people who will dress as they please - so far as I know, nothing will be said to someone who underdresses, as long as they aren't too far out of place. There's no need to buy or rent an expensive tuxedo or gown for the formal evenings - a dark suit for men and a nice dress for women will fit in rather nicely.
---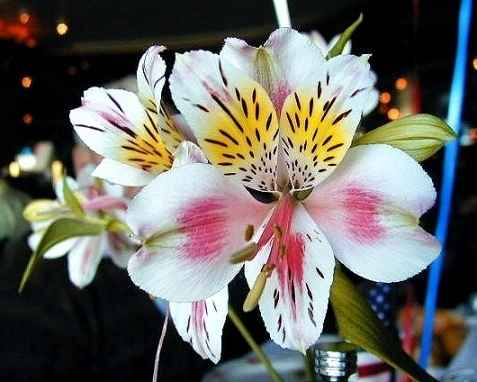 Table Flowers at our Dining Table
---
If the main dining rooms or menus don't fit your tastes, the buffet style of the Horizon Court on the Lido Deck (deck 14) may appeal. However, don't expect any form of table service unless you physically tackle one of the staff members. The Horizon Court has a 270-degree view off the bow of the ship, but only a tiny fraction of this view can be seen from any one location. Window seats are scarce, and are usually occupied by people who arrive early and sit for hours at a time. We also found the food to be no where near the quality of the dining room (the Hungarian goulash and spaetzel, however, was the best I've had in many years), and the coffee was frequently cold. In fact, good coffee is something that is not available anywhere on board. The dining room coffee is drinkable at best, IMHO. Lattes and other espresso drinks are nearly undrinkable.

Princess advertises the Horizon Court as having 24-hour dining. This, however, is no longer true. The buffets are active most of the day, but are closed several times during the day, and are completely unavailable after about 10:30pm.

Also available is a pizza joint and ice cream joint, as well as a hamburger and wiener place. We never got around to trying any of these.

Regardless of how you choose to dine, you will not go hungry while on board. In fact, you will likely find yourself without much of an appetite at meal times unless you take care to not overeat at breakfast and lunch. It was quite a strange feeling to experience minor hunger pangs late on the day we disembarked.
---
Relevant Web Links

NOTE: These links will open a new window in most browsers. To return to this page, just close the new window.
---


Copyright © 1999, Pete Hanson