---
Alaskan Cruisetour Photo Gallery
Miscellaneous Ship Facilities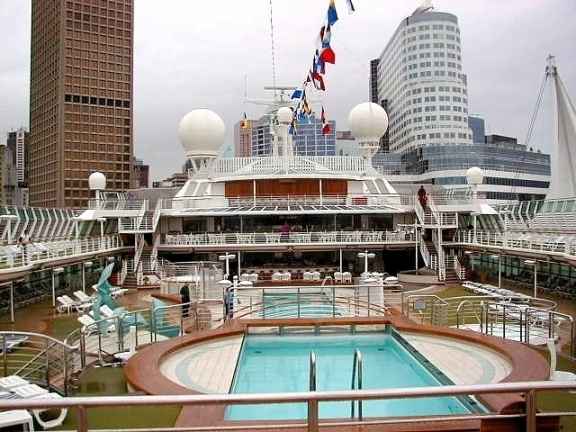 Main Pool area as seen from the Lido Deck (deck 14). Looking forward with downtown Vancouver in the background.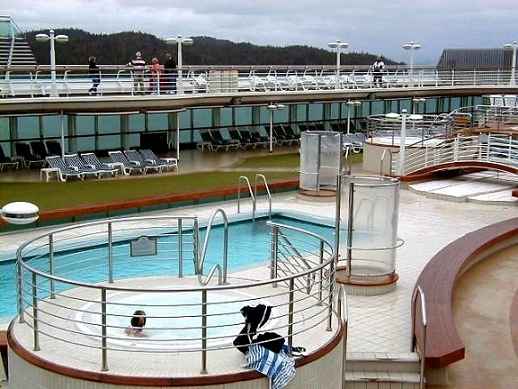 Hot tub user - it was raining and about 45 degrees (F) with winds of about 20-25 knots at the time this picture was taken.
---
You will also find a variety of different swimming pools and hot tubs on board the Sun Princess. They are all quite small, but that probably isn't of much concern on an Alaskan cruise where cold and wet is the norm, even during the summer months. I never saw any of the pools in use while onboard, though several people did brave the cold winds to make use of the hot tubs, including the hardy soul seen above.
---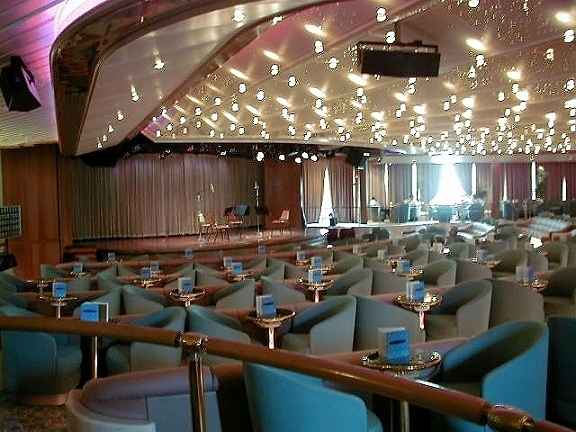 Vista Lounge
---
The Sun Princess boasts two theaters, the Princess Theater (not shown) and the Vista Lounge. The Princess Theater is a fairly generic theater suitable for stage shows, lectures, and the like. It seems to me that it would also be suitable as a movie theater, but the Vista Lounge was used instead for this purpose. Seating is more comfortable in the Princess Theater.

The Vista Lounge is a more general purpose theater/lounge area. It was used for stage shows, movies, cooking demonstrations, bingo, and much more. It also has a bar area, but the bar is usually closed during any kind of show.

The Princess Theater is located in the far forward portion of the ship, while the Vista Lounge is located in the far aft section. These locations make both theaters places where you will experience the full range of ship motion, even in calm seas. The Princess Theater in particular is very difficult to walk in while the ship is pitching, while the Vista Lounge not only experiences a fair amount of motion, but also subjects the audience to the various rumblings and vibrations of the ship's engines.

Other facilities onboard (but not photographed) include duty-free shops (expensive stuff mostly), many bars, passenger laundry facilities (be prepared to wait on very long lines, especially late in the cruise), tennis and basketball court as well as other physical training facilities), a library, a reading room, a card room, a disco, a kids area (there were not more than a dozen kids on board), beauty parlor, massage parlor (very expensive), and a casino.

While the majority of the passengers are from the pre-boomer generation, and many of the activities are oriented to this clientele, there's something onboard for just about everyone. It's difficult to be bored, unless you want to be bored.
---
...of the Sun Princess.
---
Relevant Web Links

NOTE: These links will open a new window in most browsers. To return to this page, just close the new window.
---


Copyright © 1999, Pete Hanson